"I am proud of my accomplishments in the courtroom. Thanks to the respect I have earned in front of juries and my 30 years as a litigator, I've been able to achieve some of the top recoveries in Pennsylvania much more quickly than my clients thought possible." 
Jon Ostroff has been changing the lives of individuals and families across the country for more than 25 years. He is the owner of Ostroff Injury Law and focuses his practice on personal injury law. Jon's recent recoveries are some of the highest in Pennsylvania.
One of Jon's most high-profile wins came in 2016 when he and his trial team obtained a $5.05 million verdict in Philadelphia County against Greyhound Bus Company. The case was featured on CNN.com, the Huffington Post, and more than 100 other news outlets.
Some of Jon's other notable verdicts and settlements in just the past few years include:
Over $20 million in verdicts and settlements against the largest bus company in the US
$3.5 million for a young girl injured in a Dauphin County crash in 2015
$3.1 million for an injured truck driver in 2013
$1.95 million for an injured auto accident victim in 2014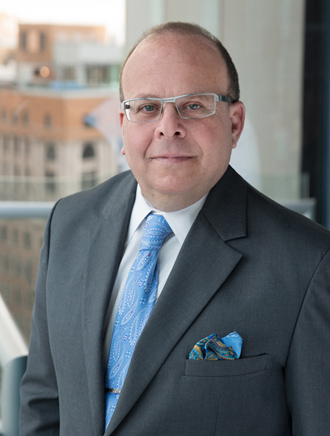 Jon is a nationally-recognized attorney.
His excellent reputation results from a combination of compassion, intensity and client commitment. Jon views his relationship with his clients like a "partnership." His immensely talented legal team at Ostroff Law is at the heart of the firm's success. Jon is admitted to practice law in Pennsylvania, in the Federal Courts of Eastern, Central and Western Pennsylvania, and before the United States Supreme Court.
Family and Community Commitment
Jon is a proud husband and father of three children. Jon and his wife Amy are the co-founders of Love to Langa, a 501(c)(3) charity that supports numerous education programs for impoverished children in Capetown, South Africa. Jon is also an honorary member of Mothers Against Drunk Drivers (MADD). His excellent results on behalf of victims of drunk driving accidents have led MADD to refer many clients to him over the past 25 years.
Professional Recognition
Ostroff Injury Law has received the Avvo Client Choice Award every year since 2011. This outstanding recognition comes from many ongoing Avvo Client Surveys about Jon and Ostroff Law. Jon has been selected as a member of the National Trial Lawyers "Top 100 Trial Lawyers," and he is a member of the Million Dollar and Multi-Million Dollar Advocates Forum.
As a Martindale-Hubbell AV-rated lawyer, Jon has received the highest possible rating from other lawyers and judges. This impressive lawyer rating reflects Jon's excellence as an attorney and high ethical standards.
Special Master Ken Feinberg and U.S. Supreme Court Justice Stephen G. Breyer honored Jon on behalf of the 9/11 Victim Compensation Fund for his free representation of those injured and killed in the 9/11 tragedy. Jon is also the recipient of Forbes Magazine's New Enterprise Award for his innovations in business and enterprise.

Why We Win - Ostroff Injury Law
The Pennsylvania personal injury attorneys at Ostroff Law have helped tens of thousands of people over the past 25+ years. They have obtained some of the highest personal injury verdicts and settlements in the state. In this video, the firm's partners break down how Ostroff Law achieves success case after case.
Take a Step Toward Your Recovery Today
Ostroff Injury Law helps victims with limited tort still obtain damages to cover pain and suffering, medical bills, and other related expenses. Call our firm today at 800-818-8148 or fill out the form to the right if you need an attorney to fight for your rights after a vehicle accident.
As always, you pay nothing until your case settles.